Half a comission for
*Laark
It is her character
Astrazione
. I though he was pretty fun to draw, and pretty hyped up to start on the next one fairly soon.
I was reading through my old posts a little while ago. I didn't realise that I cry/whine so much. I'll try and stop that and write interesting stuff from now on.
I've also started this Picture of the day thing. It's not easy. My bddy Cephi is doing it, and sticks with it. I on the other hand end up thinking...oh, just a few more hours on it tomorrow ....
so I end up spending way more time on things than I'd like to.
anyway, this made me draw dyke cammy stuff. Like so :
and sketch these things :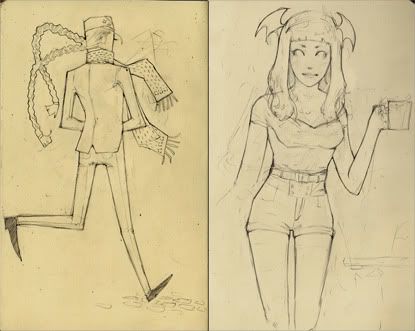 They arn't very exciting. Sorry. Next time maybe... need to stop being soooo lazy.
I have to go shower. I feel dirty.