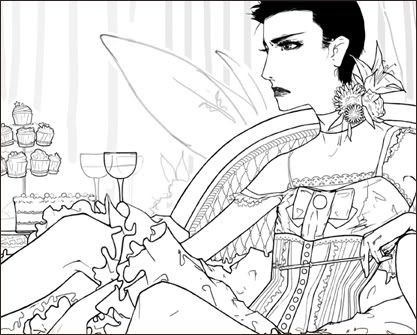 So I return! I had an awesome Holiday. A very English holiday. This one was insipred alot by my holiday and all the amazing things we did/saw. Asakati is having a tea party in his giant avery, and everyone is 23.7 seconds late. :c This took a bit of time, but im happy with it! I plan to colour it. I managed to finish the other half of the page of that other thing as well.
It took me ages to draw that halftone, but it was pretty relaxing at the same time. Anyway,. The first evening we were there we went to Tom's parent's usual resteraunt, The Willow. It's a vegitarian resteraunt that has that whole vibe thing going on. Not like hippies or anything, it's actually pretty chill. Relaxed, and they tolerate his parent's well enough ( they're quite proper you see ). They tend to have a jazz night every once in a while (every friday? i think) and there was this woman there this evening. Stunning and with an amazing voice.
She definately had a voice to remember very strong and confident in her singing. And I liked the content and stories behind each song she played for us so we bought a cd of hers. It was only £5 so it was worth it mang. You can check her out
here!
We had a good time. I'm not the hugest of fan of veggies, but I managed. They made me a baked potatoe with baked beans specially for me anyway, so that was nice of them. C:
The train ride on the way there was pretty fun as well, cause we had D with us.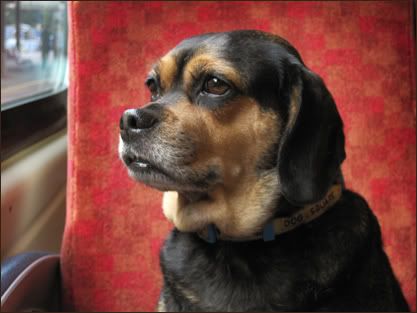 She even got her own seat.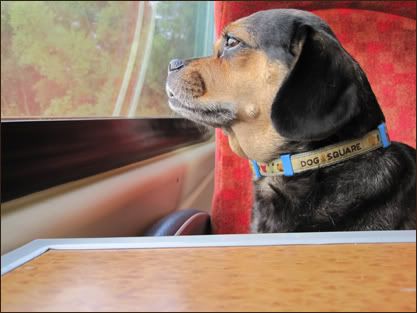 She was very well behaved the whole time. Everyone admired her <33.
So we got to go to alot of places like Becky Falls. It's like a little forest place that has walks you can go on, so we did the difficult one with D and she hopped from rock to rock, and even drank water from the stream. It rained like crazy on and off, but we still had a really awesome time. We also got to go to Woodlands park. It was like this small theme park type thing that had one of those fun house things in a building. Oh god, the slides were HUGE in there. Like, to get on the slides there, you sat on a ledge, and the drop was like falling down a wall that curved at the bottom. Oh god. So scary ; _; I wish I took pictures cause it was just INSANE. So we really had a good time. Even Tom managed to go down the slide. I started to go down but then like, stopped myself by holding on the rail screaming " NO NO NO I CANT I CANT DO IT Dx!!!!" I must have looked right foolish.
We also threw a party for Tom's father, Jonathan, as it was his birthday soon and the whole family was there. Claire made some really awesome salsa and like, spiced shrimp. Really really good. We gave him his presents and things and had a selection of different cake slices from different dellicatessens. He also bought some iced wine for the occation! ( I -love- me some iced wine. One day I'll have to buy some for my side of the family. They'd love it too).
It's very very pricey, but oh so worth it. It's made a very special way, and apparently each grape used to make it only makes about a drop of the actual wine. A very precious drink.
We went to alot of national trust houses and things, like Castle Drogo. That was a good little (actually huge) place. They let me play the piano there, though very badly. I should take lessons. (the whole while we were totally forgetting to take more pictures D:).Also went to a few places in Totnes for coffee and things or a drink. I got a cupcake somewhere.
The last day we went to like, a butterfly farm. It was incredibly humid, but the buterflies were just gorgeous. And they flew so close x: I was afrid i might break one or something. They also had this otter thing next to it, they were so cute D:.
We also went to a tea/cake house. It was so dream like.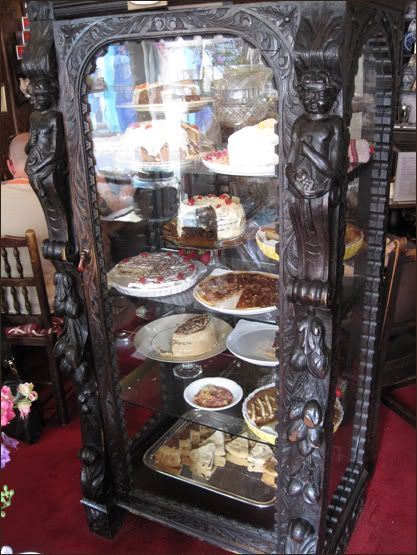 Such a selection of cakes, they even had more by the window. Unfortunately (for me) alot of them had fruit in it and things :c. I don't like weird bits in my cake. Strait up chocolate for me!! So instead I got a scone. Easily one of the best scones I've ever had.
And a hot chocolate. Tom got himself a banana milkshake.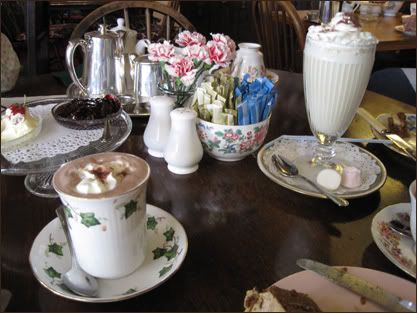 Incredible. It really was.
And here's some magic!
Soil&Pimp Sessions ft. Shiina Ringo - My foolish Heart
Peter Tchaikovsky - Swan Lake Waltz
Sergie Prokofiev - Cinderella Waltz
Maurice Ravel - Bolero
Also, Shiina had an album that came out June last year. I had no idea!!
Original Intention
Marunouchi Sadistic (Expo Ver.)
Fake Fellow
(my personal favorite so far)
The whole album is really awesome, and available on
UK Amazon
. It's well worth it, The entire album is well good.
Alright. Enough. *flies away on a rainbow*
P.S: Thank you Dion *thumbs up*. Im pretty lazy most the time. Perhaps I should start inking again.....