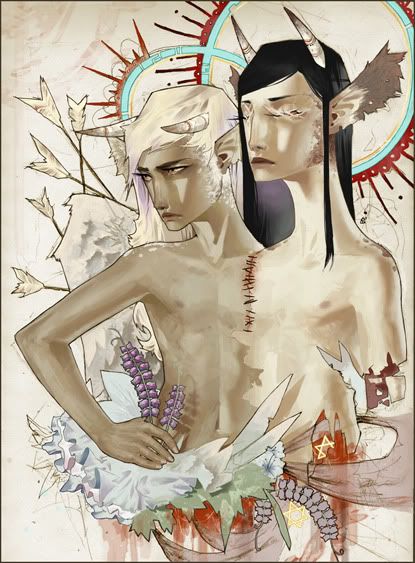 Philip Glass - Saxaphone Concerto - Part 3

Ljova and the Kontraband - Untango
I remember posting about this picture ages ago, like over a year ago. And I got lazy, and never finished it. SO I finally decided I would. Most of my gallry is of unfinished stuff, so I'm trying to polish some of it up. Granted this took a bit longer than I hope (then again everything does), but I wanted to try and put a bit more effort. More textures and stuff and approaching things slightly different. I learned a bit but maybe not as much as I would have liked to... Anyway you can see the detail if you care to :
But it's done now.
I also did a livestream while working on it, which was fun. It was nice having some people stop by just to say hey, and actually got to speak to
Gitoku
in real time. Which was a bit weird. We've known each other for about 5 years now on Deviantart, and comment on each others work often on there, but never spoke in real time before that. He was very pleasant and nice to talk to, and we learned a bit more about each other than we probably would have ever really known if we didn't speak face to face...so to say. So I hope he stops by in the future! He's good company.
And durring me trying to finish that picture, Cephi promted me to do something for her quickly, so of course I said sure, and had to draw a background in like, 2 hours. That might be easy for some people , but I never draw enviroments, so it was difficult for me I admit.
It came out okay though. She's happy with it, so, there isn't much more I can ask for...
So all the leaves are changing colour and everything. Everyone is wearing brown and red and what not and buying their hot drinks. I love autumn. I forget that every once in a while. It does make me miss home, as we don't get Thanksgiving over here or even pumpkin pie. So I have to make my own pumpkin pies with a
recipie courtious of my grandmother
and they actually come out pretty good. But nothing beats being around family and just sitting around a dinner table talking for hours about anything and everything. I know my family wasn't perfect, nobodies is, but we talked. We loved each other, as most families do. We were there for each other...and I kind of feel like I'm not apart of that anymore. Not that it's anyone's fault. It's just the distance and time. Keeping up with people miles away gets tough, especially with all of them working at different times and just doing their own things. But that's all apart of growing up I suppose. We all turn into adults, and begin our own lives and the process of growing up and growing together starts all over again...
Took D down to the beach today and through the gardens. I actually did that walk on my own a couple days back with just me and D. Bought a hot chocolate and spilled it all over my hand, then sat in a tree for a half hour. But today it was Tom and myself and D and it was nice. Then we almost got told off for having D on a part of the beach where dogs werent allowed, and then walked through the gardens very slowly as D lost momentmum at that point. She's so lazy. I got some nice photos, but tom doesn't have his comp to take them off his phone, so maybe next time.
I love going down to the beach and stuff around September time. It's no freezing, but it's empty. The gardens arn't quite as busy, but there are still plants that havn't withered away and such. Around winter time though, the beach will probably be vastly empty...so I'll have to see if I can get down there with D around that time. Buy her a little coat to protecter from the harsh elements of nature...lololo.
I'll be making some postcards soon that will be for sale once I sort everything out...always feels like there's so much to do. Anyway. Just try to enjoy one day at a time, etc...
Here's a video I always liked, but have no idea what they're saying :

Fleur - Ремонт
Fleur makes for good autumn music as well. Love love to everyone.